Scheda 2022100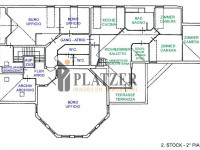 Grande immobilie commerciale con grande magazzino, uffici e appartamento aziendale con e posti macchina ideale per artigiano o prestatore di servizi in ottima posizione ad Appiano-Frangarto / Pillhof!
Property nr:

2022100

Property type:

locale ufficio / negozio

Marketing type:

acquisto

Address:

39057 Eppan / Appiano (Frangart / Frangarto)

Region:

Italia / Südtirol / Alto Adige
Details about the property
prezzi
prezzo d'acquisto: su richiesta
superficie
superficie complessiva: approx. 2.340 m²
superficie terziaria: approx. 1.875 m²
area deposito: approx. 750 m²
superficie per l'amministrazione: approx. 510 m²
area d'uffici: approx. 400 m²
superficie complessiva di terreno: approx. 465 m²
numero posti auto: 10
altre aree: approx. 215 m²
composizione
riscaldamento: riscald. a pavimento, riscald. centralizzato
riscaldamento: metano
pavimentazione: calcestruzzo, parquette, piastrelle
altre stanze: archivio, caldaia, capannone, magazzino, officina
ambiente
centro vicino: Bolzano
zone: commercial zone
vista: monti, panoramica
distance to airport: approx. 6 km
distance to motorway: approx. 5 km
distance to city centre: approx. 4 km
stato
anno di costruzione: 1994
stato di conservazione: curato
amministrazione
energy certificate
energy certificate available: si
energy efficiency category: G
type of certificate: secondo l'esigenza
Immobilienangebote
Hier finden Sie aktuelle Angebote. Da wir in Südtirol "Eigengesetze" haben was den Erwerb von Immobilien betrifft, ist bei den Angeboten angeführt, ob die Liegenschaft "konventioniert" (das bedeutet, dass man sie nur erwerben kann, wenn man den Wohnsitz in Südtirol hat), oder "frei" (in diesem Fall kann sie auch von einem Auswärtigen erworben werden, z.B. von einem deutschen Staatsbürger) ist. Die wichtigsten Informationen zu den einzelnen Immobilien können Sie bereits hier aus den Angeboten entnehmen. Weitere Informationen erhalten Sie direkt bei einem unverbindlichen Telefongespräch. Sollten Sie andere Vorstellungen, bzw. andere Wünsche haben, was eine Immobilie betrifft, rufen Sie mich an oder kontaktieren Sie mich mittels E-Mail für eine Terminvereinbarung.